Little Mischief Rescue- Small Animal Rescue Society, BC Canada. This rescue works with all kinds of small critters, and is really the best rescue group in the area. They are involved with our club, RatsPacNW, and are commonly seen at our shows.
IdahoRats Yahoo Group
-
A group where all local rat lovers can chat, get great information, and get your rattie questions answered.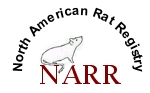 www.RatsPacNW.org

-Rats Pac!!! Our local rat club! We have members from all over the Northwest US and Canada! Go here to find out our show dates/results, quarentine procedures, etc. There is also a yahoo group of the same name- lots of great information, and great people. Any rat lover is welcome to join!

Click to join RatsPacNW
Rat Health guide

- a wonderful resource on health, care and breeding rats. Also has links to medications and doseages.

North American Rat Registry

is the database many breeders, including myself, register their rats with. When you're a member, you can access any rat from any breeder, their pedigree, and even do trial matings.
Rodent Breeders Unite

- Another registry- Good resource for finding breeders. This site lists breeders of all rodents, not just rats.

Rocky Mountain Fancy Rat Breeders Association- Another club more centered around Colorado, it includes the Rocky Mtn. states.